Overview
The Faculty Computing Program (FCP) is an institutionally funded program which provides Apple, Dell or Lenovo computers or laptops to faculty members to aid teaching and scholarship. Through this program, every four years, eligible faculty are able to purchase a laptop or desktop device from a standard list of available models. Computers purchased through this program are the faculty's primary computer, have extended warranty coverage, automated operating system updates, encryption software, automated cloud-based backup, anti-malware and vulnerability monitoring software. Installation of this software is required on equipment purchased through this program. Funding is managed through a financial reimbursement process in each department, and is contingent upon adherence to financial and computing setup requirements.
Eligible Faculty and Researcher Ranks
FCP requests may be submitted throughout the year, following approval from the department chair or delegate. Faculty members should confirm eligibility with their Department Manager. The following professorial-rank faculty and senior lecturers are eligible. The Dean of the Faculty requires FCP members to be appointed for multi-year terms and at 100% duty time.
Eligible Faculty Ranks
Professor
Assistant Professor
Associate Professor
Instructor
Senior Lecturer
University Lecturer
Professor of the Practice
Eligible Researcher Ranks
Senior Research Scholar
Research Scholar
Current Models and Funding
We have partnered with Apple, Dell and Lenovo (through SHI) to offer a standard set of FCP models and kits with 4 year warranty. If one of the standard FCP models does not meet your needs, please speak with the Department IT Support representative (SCAD/DCS) about alternatives and financing.  The computer is required to be your primary computer. Our current offerings include:
Apple iMac
Apple MacBook Pro (MBP)
Dell OptiPlex
Dell Latitude
Dell Latitude 2in1
Lenovo ThinkPad X1 Yoga
Lenovo ThinkPad X1 Carbon
The academic department will be reimbursed the total amount of the computer order or the FCP maximum reimbursement amount for the vendor, whichever is less. The current reimbursement amount per vendor is:
Apple   $2200
Dell      $1550
Lenovo $2000
Shop and Select
A Princeton netID is required to access the Prime Marketplace. The faculty member or departmental representative may browse available models in the Princeton shopping catalog, Prime Marketplace.  
1. Log into the Prime Portal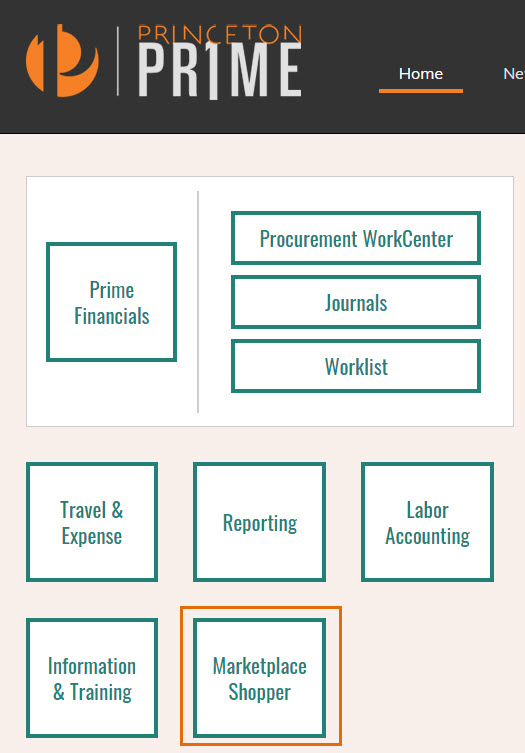 2. Select Marketplace Shopper tile to launch Prime Marketplace.  
3. Navigate to Catalogs:  Technology - For Managed Environments choose Dell, Apple or SHI

4. Click the Apple, Dell or SHI (use SHI for Lenovo) tile to view their respective catalogs.
5. Browse items, select desired model and add them to the cart.  When selecting, choose an item with "FCP" in the label.
6. Route the cart to the appropriate Requisition Creator in the department for review and requisition creation.  This may be the department IT support representative or another staff member.
Shipping
FCP orders should be shipped directly to the department SCAD/DCS. 
Computer Setup
When the computer arrives, the department IT support representative completes the setup process.  If the computer was shipped to a home address, contact the department SCAD/DCS. It is helpful to complete this process before personalizing or adding data to the new device. The setup will include:
Automated Operating System Updates
Encryption software
Automated cloud-based backup (Crashplan)
Anti-malware software (Crowdstrike)
Vulnerability Monitoring software (Rapid 7 is automatically installed on macOS during Jamf ASM enrollment and installed by ISO request on Windows)
Upgrade or Replace
FCP computers are eligible for replacement every four years or if/when the equipment falls below Princeton computing standards.  An email is sent quarterly to the department IT support regarding eligibility.  Faculty members may also contact the department IT support to confirm eligibility.
Lost, Stolen or Missing
Follow procedures described here Lost, Stolen, Missing Computer or Device
Contact OIT Support and Operation Center (609) 258-HELP (4357) or helpdesk@princeton.edu
Departure from the University
In the case of departure from the University, University and department departure policies are followed. Review the Resource Recovery Program Guide: Items Used by Professors in Research
Requisition and Purchase Order
This section is intended for department technical and/ or purchasing staff who complete the Requisition and Purchase Order process.
When submitting an FCP requisition, include only one FCP Order per Requisition. 
In the requisition, complete the following fields as follows:
Ship-To field:  If a home Ship-To was requested and the profile was created by the FSC, select the home Ship-To profile.
Attention To field:  Type the SCAD/DCS First and Last name and the Faculty Member PUID.
Location Code field:  Include the SCAD/DCS Location Code, not the Faculty Member Location Code.
Requisition chartstring
Charges may be split between the FCP and Department/Faculty chartstrings.  In the case of an upgrade, departments may charge the base kit amount to the FCP chartstring, and the upgrade amount to a department or faculty member (sponsored/non-sponsored) chartstring. Charges for replacements and upgrades should be moved by the department to a department or faculty chartstring via a Prime journal entry.
Department:  Department number listed in the FCP application.  
Fund: A0010 (Charge the total computer price to FCP Fund)
Program:   Optional. You may include the faculty member's person specific Program FA####,FB#### etc.
Request Financial Reimbursement
Once the computer has been setup and enrolled in the Faculty Computer Program by the SCAD/DCS, department staff must complete the Faculty Computer Program Reimbursement form.