Google at Princeton: How to log in and where to go from there
How to log in to your Princeton Google account

Step 1

---
Step 2
You may have more than one Google account listed. Click on the account with your Princeton email address.


If this is the first time you are accessing your Princeton Google account, you will need to click the Add account link.




Do NOT click the Create an account button.
Undergrads and Incoming Grads: Your Princeton Google account has already been created.
Use the Add account link.

Faculty, staff, and graduate students*: Request a Princeton Google account first. Once your account is created, then use the Add account link.


 *Except new incoming graduate students starting academic year 2019-2020, and graduate students, faculty and Staff from academic departments who opted in to Google.
---
Step 3
Enter your full Princeton email address (netid@princeton.edu) in the Email or Phone field, click Next

If prompted, complete the CAPTCHA

In the Central Authentication Service (CAS) window, enter your netID and password. Do not use @princeton.edu in this step.

Respond to the Duo prompt. See www.princeton.edu/duo for more information.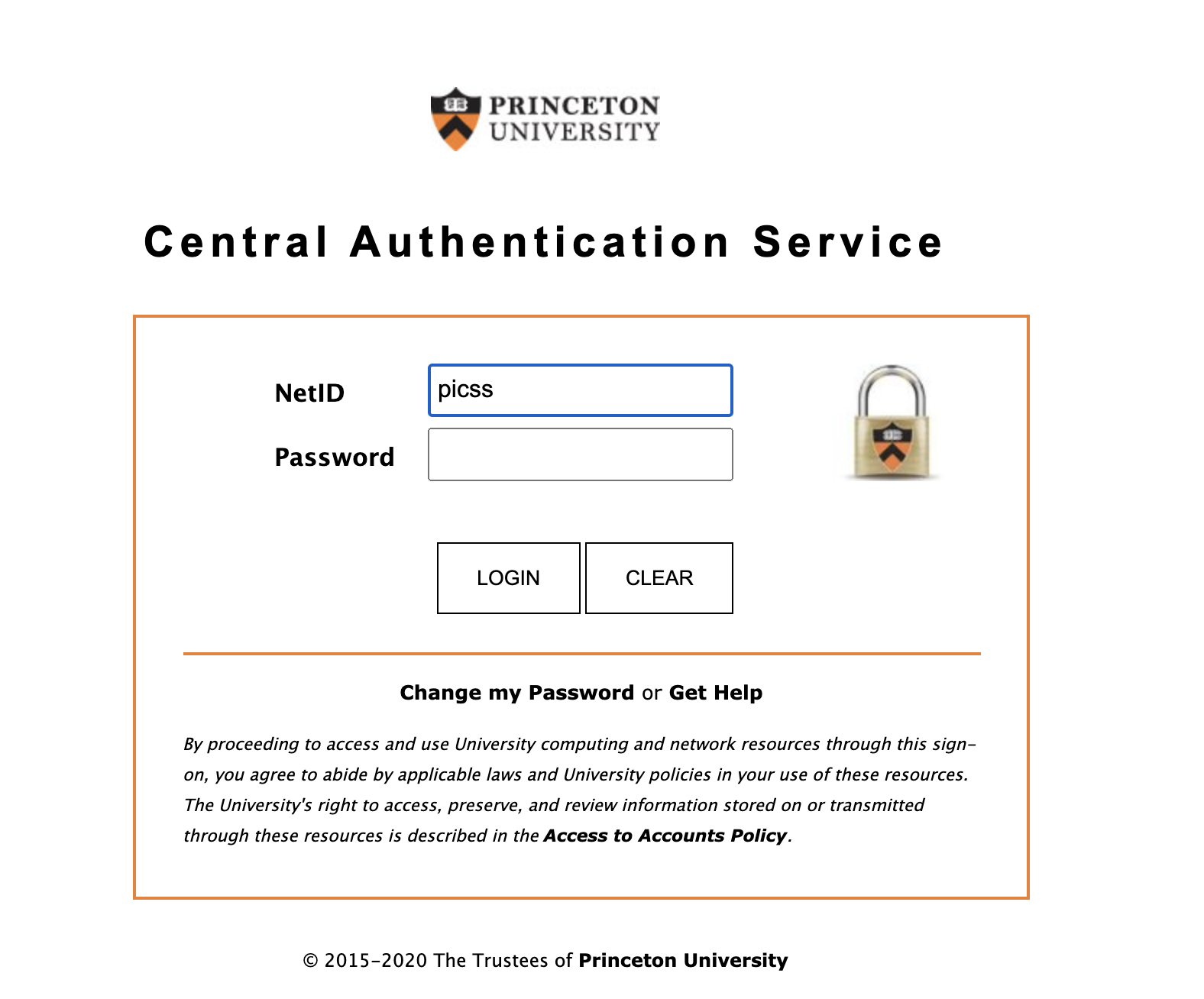 ---

Step 4
Click on the Apps Grid to see the Google Apps Launcher, which simplifies Google navigation no matter the device you are using; computer, smartphone, or tablet.

When you log in to Google using your Princeton email address,

you will only be shown those apps available to you (depending on your affiliation with Princeton)

based upon Google licensing with the University. For example, Staff and Faculty do not have Calendar, Map, Hangouts and many other Google apps when logged into their Princeton Google account.

In the example below, click on the Google Drive icon to access your Princeton account.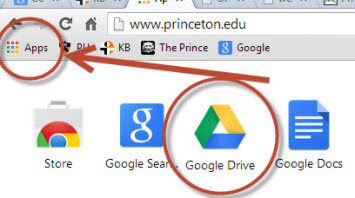 ---
Step 5
To log out, click on the profile's icon in the upper right-hand corner of your screen. Click the Sign out button.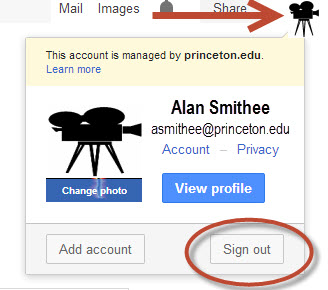 ---
Having trouble logging into your Princeton Google account? Is Google having issues? Check the following links
---
What is the default quota on my Princeton Google account?
Princeton Google accounts all have unlimited quota of shared storage.
---

Google Drive and Shared Drive
Use Google Drive and Shared Drive to create, share, and collaborate on documents in real-time.
---
Princeton Gmail
Email with lots of storage, search tools, and integrated chat. It's very much like standard Gmail accounts but with an @princeton.edu address.
---
Google Calendar
Coordinate meetings and events with fellow students using shareable calendars
---
Google Sites
Create websites quickly and easily.